10 Myths and Truths About Moving into an Independent Retirement Residence
in Independent Living

Written by PARC Retirement Living
Contemplating a move to a retirement residence is a big decision, one that can be fraught with fear and uncertainty. Therefore, it's important to have all the right information to make the best decision for yourself or loved one.
Here, we challenge the most common misconceptions about living in a retirement residence.
Myth 1: Independent living and assisted living are similar.
Independent living and assisted living are quite different. Let us explain. Independent living offers housing and the convenience of resort-style services for independent seniors. Residents live in their own suite and have access to many amenities and services including chef-prepared meals, housekeeping, transportation, fitness classes and recreational outings. All of these amenities and services are designed to help seniors thrive and stay socially connected.
Unlike assisted living, nursing homes or long-term care which typically involve medical care and assistance with daily living, residents in independent living residences fully direct their own lives and live with freedom, choice and independence. As long as residents are mobile and able, many live happily in an independent retirement community for years.
Myth 2: I'll be surrounded by frail people and my health will deteriorate.
This couldn't be further from the truth. In fact, it's the opposite. Independent retirement communities provide opportunities for residents to socialize, connect and thrive with other vibrant, like-minded people. In doing so, you benefit your health. According to the National Institute on Aging, several research studies have found a strong positive correlation between social interaction and health and well-being in older adults.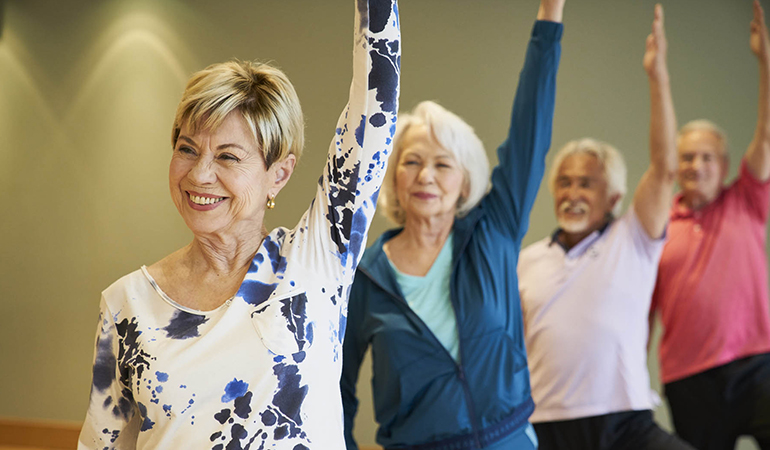 Myth 3: Staying in my home will be cheaper. A retirement residence is too expensive.
Costs to move in will vary depending on the type of suite you choose. The costs of independent retirement living are comparable to the sum of maintaining a home (including cable and utilities), transportation, eating well and enjoying entertainment, recreation, exercise and other amenities.
Myth 4: I'm only thinking of moving into a retirement residence in a couple years, it's not something I need to consider now.
While one to two years may seem far away, it's never too early to start planning, especially if you have your heart set on a specific residence, location and suite type. Some of our residences have 1-2 year wait lists so we encourage those who are even thinking about it in the next couple years to book a tour and put their name on the wait list.
Myth 5: My day will become too regimented.
When you move into an independent retirement residence, you have the choice and freedom to come and go as you please, and do what you want to do. Sure, there are plenty of activities, outings and programs to participate in, but you're in full control of how you plan each day. We encourage residents to participate in the activities that they find rewarding, explore their surrounding neighbourhood regularly, make dates to meet friends and family, and get involved in the community.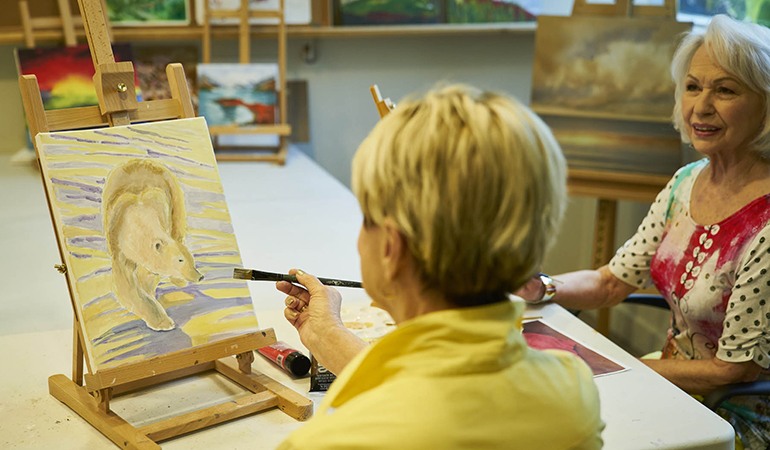 Myth 6: The food is bland and boring.
While many retirement communities choose to offer their residents fairly standard fare supplied by outside companies, our talented culinary teams thrive on creating a daily array of fresh menu choices that are full of flavour and variety. You could say that we're more than happy to squash the myth of bland and boring food!
Our menus are designed around whole grains, fresh produce (some grown onsite in our own gardens), the right amount of protein and plenty of nutrients. While our culinary program is based on these fundamentals, you won't find the same food served across all our communities. Our talented Executive Chefs and their culinary teams carefully plan and prep the menu choices each week, making sure that they're unique to the preferences at their residence.
Myth 7: I'll have to stop driving my car.
Many of our residents drive and bring their car with them. In fact, one of our residents is in her 90s and drives herself to the swimming pool every morning! We have resident parking available so you're more than welcome to bring your vehicle. And when you prefer not to drive, complimentary driver service is always available to take you to errands and appointments.
Myth 8: I'll lose the ability to do the things I enjoy.
Oftentimes, residents who move into a retirement residence are moving from a house where they enjoyed tending to their garden or had access to a full-sized kitchen to make home-cooked meals or bake delicious treats. Those interests can still be pursued after you downsize and move into a residence.
A kitchenette in most of our suites enable you to make quick and simple meals. And, many of our residences also have full-sized communal kitchens where you can cook and bake with family, just like you used to at home. If you've always enjoyed entertaining and hosting parties, don't hang up that apron just yet. Private dining rooms and family rooms with kitchens enable you to throw dinner parties or host showers, birthday and anniversary celebrations.
For the gardeners, we know that many of our residents have a green thumb so you'll find our communities equipped with expansive patios with gardens and greenhouses for you to grow flowers, herbs and vegetables.
Related: See how retirement life blooms at Mulberry PARC for for married, avid gardeners, Bob and Virginia.
Myth 9: I'll have to move out if I get sick or need more assistance.
Through our comprehensive Independent Living+ services and amenities, there are many options available to you if you experience a short-term illness or require assistance with daily activities such as bathing or medication. Our Wellness Nurse is available to provide you with information and guidance to help you access public health workers or private agencies for care services you require. That means you can get the assistance you need while remaining at the residence and minimizing disruption to your life.
Myth 10: I'll have to leave my pet behind.
Furry friends are more than welcome. Cats, fish, birds and small well-trained dogs make great roommates and companions in your suite. You must be able to care for all their needs and receive prior authorization from the General Manager and a signed pet agreement.
Related: Real Life Stories: Cedar Springs PARC resident, Cathy and Shih Tzu, Daisy Mae
Interested in learning more about living in a PARC retirement residence? Book a tour to discover retirement living at its finest.