8 Ways to Avoid being a Covidiot
in COVID - 19 News

Written by PARC Retirement Living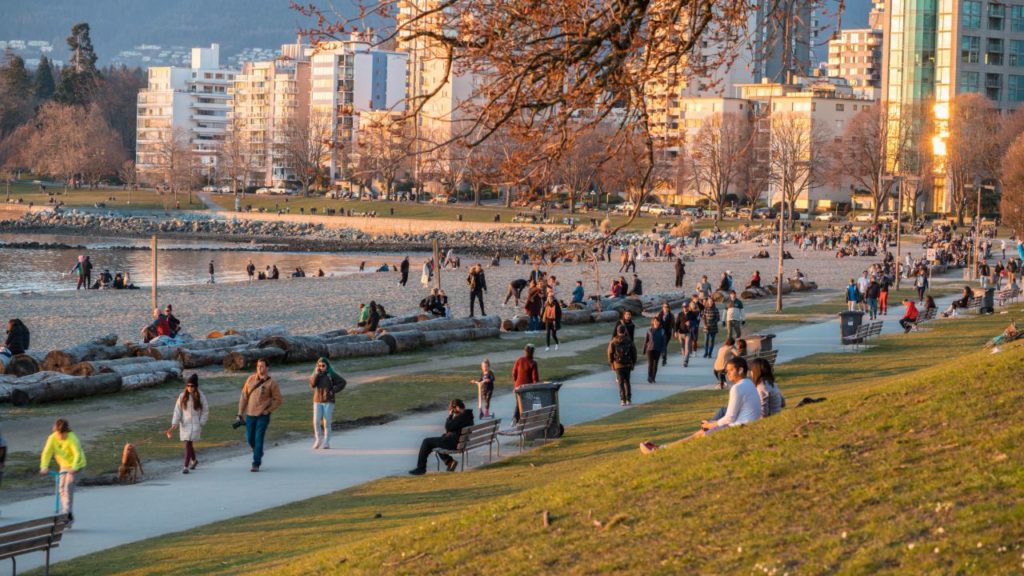 As George Carlin once said, "Never underestimate the power of stupid people in large groups." Was there ever a statement so apt in our current situation? As the COVID-19 pandemic grips the globe, observers have even coined a term for the type of person flaunting the newest flavour of foolery: Covidiot.
A portmanteau of "COVID" and "idiot," this label refers to someone who ignores the medical community's best advice on preventing the spread of the novel coronavirus and safeguarding vulnerable populations. A Covidiot behaves selfishly, dangerously, or plain unwisely in the face of the current risk.
Now that we're in the later waves of the pandemic, this kind of behaviour is more riskier than ever. Several times over the last year, B.C. has introduced emergency orders banning gatherings, reducing social interaction, restricting local travel and more, in hopes of halting the spread of the virus and new varients. Not only is "Covidiocy" dangerous, it's also illegal depending on the current restrictions in effect.
Below are few behaviours to help spot this species of nitwit in the wild. Do the opposite to avoid becoming a Covidiot yourself!
1. Not wearing a mask, or wearing one wrong
You've probably seen unmasked Covidiots out there in malls and shops, running around with faces uncovered, coughing, laughing or gabbing with abandon as other people duck and dodge to get out of their spray zone. Yikes! Some Covidiots have gotten the mask memo – but only partially, for some reason – wearing masks dangling down around their chins or covering their mouths, but not the noses (why bother, folks?). All too many of these inconsiderate individuals have been captured on video getting rude or downright abusive toward employees.
This is why the BC government recently implemented a mask mandate for most public indoor spaces. People who refuse to comply – or react with abusive or belligerent behaviour when asked to wear a mask – may be subject to a $230 fine.
If you're wondering why expert advice on masks has changed over the last few months, it's simple: earlier in the pandemic, scientists hadn't yet come to a consensus about the effectiveness of non-medical-grade face coverings. But there is now concrete evidence that homemade masks and other face coverings can significantly reduce the risk of spread COVID-19, by blocking the moisture droplets the virus travels within. The Public Health Agency of Canada takes the mask recommendation a step further, calling for face coverings with at least three layers for maximum efficiency.
2. Getting too close for comfort
Ah yes, the Covidiot has no sense of personal space, even during a pandemic. You're likely to see them crowding other pedestrians on sidewalks, sneaking up behind other shoppers in tight grocery-store aisles, or attempting to hug reluctant friends who are too polite to flee. Bottom line, this needs to stop. Around the world, authorities are asking people to practise physical distancing when going out (infrequently) in public. That is, to stay a minimum of two metres (six feet) away from other people at all times. This is because the COVID-19 virus transmits through droplets. We all miss hugging and handshakes, but we need to embrace the no-contact greeting for a little while longer.
3. Sneezing like a sprinkler
It seems unfathomable at this point, but some Covidiots haven't gotten the memo: this is a time to keep your germs to yourself! If you feel sick in the slightest, don't leave the house, even if symptoms are mild, and self-isolate for a minimum of 14 days. If you feel healthy and you must go out for essentials, be extra-vigilant about what you touch and breathe on. When you sneeze or cough, cover your mouth and nose with a disposable tissue or the crook of your elbow. Certainly don't spit on the ground, or anywhere else in public, as this publicly shamed Covidiot did!
Wash your hands frequently and thoroughly whenever possible, for a minimum of 20 seconds. Using soap and water is the most effective way of reducing the spread of infection. If soap and water aren't available, alcohol-based hand rubs are the second-best option. Either way, don't touch your face, eyes, nose, or mouth with unwashed hands. When you arrive home from grocery shopping or collecting prescriptions, wash your hands thoroughly. It's ideal to pay with a tappable interac or credit card if possible.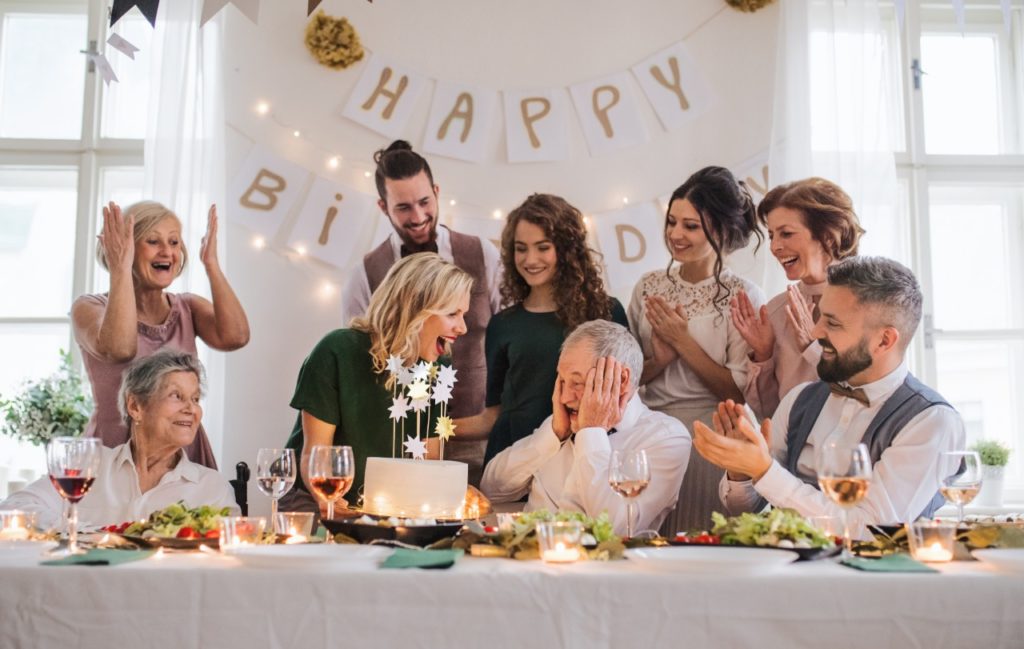 4. Attending regularly scheduled group activities
The Covidiot goes about his or her daily life despite the pandemic, throwing out phrases like, "it's just a flu" and "what are the chances?" Unfortunately, when groups get together and mingle, the chances of transmitting the virus are much higher. And COVID-19 is much more contagious and harmful than the common flu, even when the carrier doesn't appear to have symptoms. Just look at what happened to this choir group that decided to hold its regularly scheduled practice, despite local guidelines to avoid gathering. Physical distancing means no meet-ups for card games, group walks, backyard gatherings, birthday parties, or any group activity. Even no visiting family members who don't live in your home. It may be frustrating and lonely, but this will save lives by flattening the curve; slowing the spread of COVID-19 so that fewer people need to seek treatment at any given time – and keeping hospitals from being overwhelmed. Some Covdiots haven't gotten this message, and are staging "end the lockdown protests," behaviour that is ironically likely to make it last longer.
This cartoon by Vancouver artist Geoff Coates pretty much sums it up. People have made much bigger sacrifices for the greater good throughout history: we can do this, team!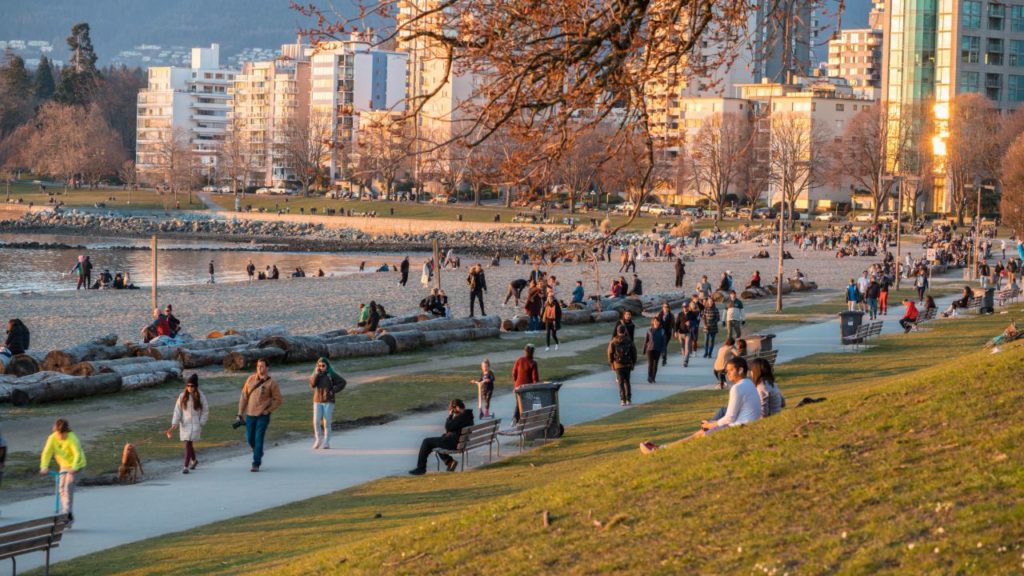 5. Flocking to public parks and beaches en masse
By all means, go out and take a walk for exercise. B.C.'s current guidelines say that's OK, so long as you keep your distance from other people and avoid crowded areas. But not everyone is taking this guideline to heart. Last summer, Lower Mainland Covidiots congregated at local beaches, parks, and communal areas to soak up the first rays of spring sunshine, for instance. Not only is this behaviour now punishable by individual fines of up to $1,000 in many municipalities (a move most Canadians support), but it also puts vulnerable people at risk. All for a few selfish hours of short-term enjoyment. And to the young people out there still having parties and barbecues who believe they're immune: this sadly isn't true. Seniors and immunocompromised people may be more at risk, but COVID-19 has tragically claimed healthy young lives as well.
6. Taking a weekend trip
Warmer weather and reduced work hours give some Covidiots the urge to travel. The Easter long weekend of 2020 was especially bad, with a spike in traffic on local highways and the Port Mann Bridge. Ferry sailings were packed with people travelling to the Sunshine Coast. Residents of the Gulf Islands other small B.C. communities even had to issue pleas for out-of-towners to stay away, citing their limited medical resources. By easter 2021, most British Columbians had gotten the memo, but BC Ferries still had to add extra sailings to keep up with a temporary demand increase, much to the government's dismay. The message is clear to everyone but the Covidiots: stay home and avoid non-essential travel.
7. Hoarding toilet paper, medical supplies and other essentials – or worse, reselling them
We've all seen the photos of Costco shoppers rolling out with carts so bursting with toilet paper rolls they might buckle. At this point, flats of Purell were disappearing from shelves as quickly as stores could stock them. Earth to hoarders: if you're out there buying more of anything than you can use to fulfil your immediate needs, you're a total Covidiot. Even worse, you're depriving vulnerable people, like seniors, who don't have space or mobility to stockpile for themselves. Rest assured, there no need to buy excessive amounts of anything. As the government and the Retail Council of Canada continue to remind us, Canada's supply chain remains strong – it's the panic-buying and hoarding that are emptying local shop shelves (goods are still flowing normally from all the usual sources).
Fortunately, the government came through with a strong message for this kind of Covidiot: profiteering is now punishable by up to a year in jail, a $10,000 fine, or both, under B.C.'s Emergency Program Act.
8. Ignoring science
Covidiots have experimented with a bevy of COVID-19 home remedies over the course of the pandemic, ranging from ineffective to downright dangerous. These included everything from disinfectant and UV light to blowing a hair dryer up the nose, inhaling steam and imbibing boiled ginger, neem leaf, tea, zinc and tonic, alkaline foods, papaya salad, garlic and onions. None of it worked.
What has proven to work is physical distancing, limiting crowds and social gatherings, and mask-wearing. But don't tell the Covidiots that! They're still out protesting to end lockdowns and halt mandatory masking policies.
You might think these individuals would be happy about world vaccination rates, which are rapidly rising and bringing us closer to ending those pesky COVID restrictions. After all, it's 2021, and thanks to concerted efforts by scientists and governments around the world, we now have several vaccines that have proven highly effective against COVID-19. Well, guess what? Many Covidiots – or anti-vaxxers, as they're better known – have decided they won't be vaccinated, refusing to believe the science – or worse yet, cooking up conspiracy theories, false claims and pseudoscience about vaccine effects. Unless the vaccine-hesitant step up to the plate, Canada may not reach herd immunity anytime soon.
To sum up: don't be a Covidiot. By working together, and avoiding these behaviours, we can limit the spread of COVID-19 and finally end the pandemic. If you don't care about yourself, do it to help protect those who are most vulnerable.