Are You Ready to Move into a Retirement Residence?
in Independent Living

Written by Sheila Hansen
Knowing when to move into a retirement residence might seem like a difficult decision. Maybe you've lived many happy years in your current home and can't imagine leaving it. Perhaps you've been thinking about downsizing but aren't sure about the next step. Or recent circumstances, such as a change in health or mobility, have got you thinking about future living options. Whichever your situation, it needn't be a daunting prospect, says Vancouver certified retirement coach Diana Cawood.
"It's good to start planning ahead, just like you would if you were going on a holiday, like a long cruise," says Cawood. Similar to learning about your trip's ports of call, time on shore and shipboard activities, you'd be "looking at [retirement residence] information as though it's a journey for yourself."
Cawood suggests starting by asking yourself these two questions: "How does my current living space support me for how I live? And in five to 10 to 15 years from now, will this be the same for me?" To help guide your answers, she provides the following key points:
Social connections
"We know research affirms that frequent social interaction is a big factor in longevity and emotional and physical well-being," says Cawood, pointing to psychologist Susan Pinker's book, The Village Effect, as an example.
As such, it's important to take a look at your social network, and where and how you connect. Is it easy to engage with others and make new friends? In the years ahead, do you see yourself entertaining less in your home and making fewer trips to visit friends or family? A retirement community, with its lively gathering spaces, escorted social outings and transportation services, could help maintain and grow that social circle.
"Residence living would really support those friendships and social interactions…it's a really big issue to start looking at," says Cawood.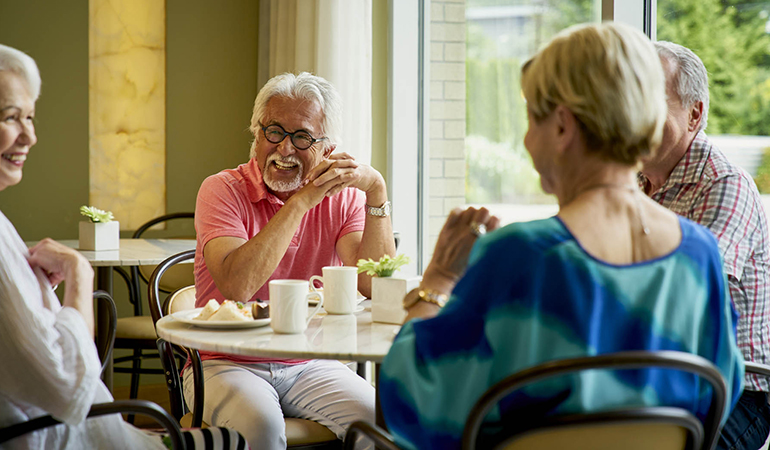 Mental and physical activities
As we've long known, keeping mentally and physically active bodes well for living longer and better. Think about your current interests, hobbies and sports, and how accessible they are. Perhaps you drive to yoga or take the bus to bridge club, says Cawood. Will you want to be commuting a decade from now? Or, maybe you desire a more active lifestyle but are finding it hard to start. A modern retirement residence focused on healthy living  would support an array of on-site and nearby activities – from Tai Chi and strength training to brain games and meditation.
Responsibilities at home
Another important aspect of home life is everyday tasks and responsibilities. Yard work, house maintenance, grocery shopping and paying bills all need to be done. In time, these might become overwhelming and more time-consuming. As well, what you find enjoyable now, like cooking or gardening, might start to feel like a duty down the road.
"Carrying that responsibility takes a lot of energy, and can drain a person without them realizing what's actually going on," says Cawood. While you might expect to keep doing the same things as you did when you were younger, she adds, you're moving into a different stage of life. Rather, residence living – providing daily services  like prepared meals, housekeeping and building maintenance – would free you up to still pursue what you love, but only when you want to (think, getting your hands dirty in a greenhouse or attending a gourmet cooking class).
Proximity to services
As age-related changes naturally set in, it's comforting to know that your dentist, doctor and clinic aren't so far away. Are you currently commuting to these health services, and will they be accessible in years to come? A retirement residence that provides health support  via wellness nurses, shuttle service to appointments and 24-hour emergency support would make sure you continue to receive the care you need.
Still, as Cawood says, "moving into a residence doesn't mean you immediately change your doctor, clinic or dentist. It's that you know that over time, you can be in the right place to have the physical and health support that you need, in a step-by-step way."