Mental Health Tips for Seniors During COVID-19
in COVID - 19 News

Written by PARC Retirement Living
This has been a tough time for everyone. Between spending our days cooped up at home, absorbing a constant stream of worrisome news, and seeing our finances take a hit due to the economic fallout of COVID-19, it's hardly surprising that anxiety and depression are on the rise across Canada, with some experts fearing an "echo pandemic" of mental health issues in the wake of the virus.
For seniors, who may already have been grappling with social isolation before COVID-19 appeared, this time is even more challenging. Not to mention that they're one of the groups most vulnerable to the virus. So if you're feeling stressed, anxious, fearful, depressed, sad, or lonely lately, first of all: know you're not alone, and your feelings are completely normal. Here are some tips for coping during the COVID-19 pandemic:
Stay connected
Social distancing and social isolation keep us separated from other people to flatten the infection curve. But try to remember: social distancing doesn't mean social disconnection. In fact, it's really physical distancing we're engaged in now. It's more important than ever to remain social; to connect with friends and family and talk about our feelings. You can't go wrong with a phone call, but today's video calling and conferencing apps are great for this purpose, too, allowing you to see your loved ones' faces and spaces in real-time. Facetime, Skype, and Zoom are all available free for computers and mobile devices.
Set a new daily routine
Physical distancing is going to be our reality for the foreseeable future. So give yourself – and your days – some structure, even if you aren't going anywhere. Consistent wake-up, meal, and bedtimes give you something to anticipate and plan for, which keeps the mind busy and engaged. Get dressed each morning, and consider doing some physical activity at a scheduled time. Mediating consistently is also extremely beneficial for mental health – just 20 minutes can help reduce anxiety and stress and improve concentration and sleeps, along with a huge variety of health issues. There is also research suggesting that meditation may offset age-related cognitive decline in seniors.
Take a break from the news
Hearing about the pandemic nonstop, like any negative news, can be anxiety-inducing, so take frequent breaks from watching, reading, and listening to news stories, including social media. It's great to stay informed about matters affecting your health, but it becomes counter-productive if it erodes your mental health! Too much screen time can also tire out your eyes and disturb your sleep if you need more reasons to tear yourself away.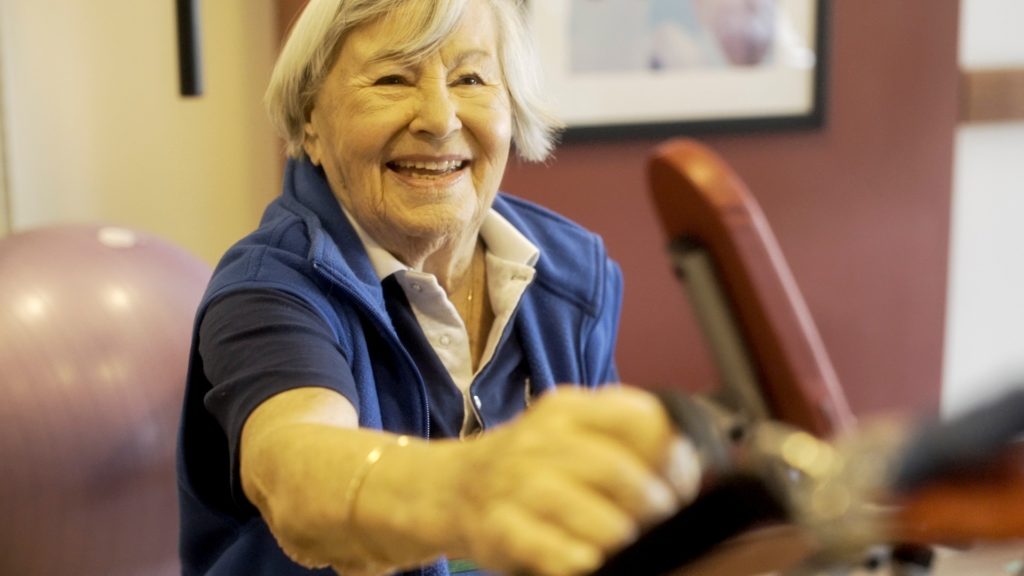 Eat a healthy diet and exercise regularly
Regular physical activity has been proven to ease anxiety, depression, insomnia, and other mental health issues, partly by producing more serotonin, the brain's "happy chemical." Sunshine exposure can have a similar effect. B.C.'s current guidelines for physical distancing state we can exercise outside, so long as we keep a minimum of two metres (six feet) from other people at all times. You can also try these at-home fitness ideas to stay active and limber behind closed doors.
A healthy diet with plenty of fresh produce, and limited processed food, can also improve mental health. To reap the most psychological benefits, eat plenty of veggies, fruit, leafy greens, nuts, lean protein such as fish, healthy oils, and other brain-boosting foods. It doesn't hurt to seek out foods that boost your overall immunity, as well.
Get a good night's sleep
Sleep and mental health are so closely connected, it's almost a chicken-or-egg conundrum: losing sleep negatively affects your mental health, exacerbating stress and anxiety. At the same time, these mental health conditions are likely to cause more sleep loss. It hardly seems fair! You can break the cycle and improve your night's sleep by keeping consistent bedtime and wakeup times, including a wind-down ritual that involves shutting off electronic devices at least an hour before bed. Limiting caffeine and alcohol, and avoiding heavy meals near bedtime, can also help, as can clearing your bedroom of mind-stimulating clutter. Don't forget to add in daily exercise and meditation, since these can also improve sleep quality.
Be kind to yourself, and others
When all else fails: give yourself a break. What we're going through as a community – and a planet – right now is unprecedented, and you're right to manage just about however you can. We're all feeling a sense of loss, and even grief, because the world has changed so much in such a short period of time. We may even be grieving loved ones lost to the virus. So be gentle and non-critical of yourself, however you're coping, and extend the same courtesy to other people. You may need to give yourself tasks and keep busy, or you may find that staring out the window at clouds is all that makes you feel better. And that's OK. Holistic mindfulness techniques may help you stay in the present moment, and prevent you from spiralling into fear or worry about the future.
Seek help when you need it
Here a list of additional mental health and other resources for seniors during COVID-19:
We hope you find this list of tips and resources beneficial for your mental health during this trying time. Just remember: we're all doing the best we can under extraordinary circumstances.
PARC Retirement Living is committed to the health and well-being of all seniors, their families, and friends. As an independent-living community for older adults, we've been watching events unfold closely, and offering information to help where we can. Visit our COVID-19 page for more on coping during the pandemic.