We Answer Your Most-Asked Questions About Retirement Living
in Independent Living

Written by PARC Retirement Living
When you're looking for a retirement residence for yourself or a loved one, you have a lot of questions. Lifestyle, location, food and amenities are just some of the things you're likely to wonder about.
We've rounded up the most common questions we get about independent living. Let's get straight to the answers.
How do you determine whether I'm eligible for independent living?
The best candidates for independent living at a PARC retirement residence are seniors who are mobile, capable of fully directing their own lives and do not require assistance with daily activities.
We ask prospective residents to meet with our in-house Wellness Nurse to discuss the current state of their health and any concerns they have about their health down the road. From there, the Wellness Nurse will determine whether independent living will fit your needs and desired lifestyle.
How much will it cost?
The cost varies based on the suite type chosen. The costs of independent retirement living are comparable to the sum of maintaining a home (including cable and utilities), transportation, eating well and enjoying entertainment, recreation, exercise and other amenities.
To make it easier for you to budget your expenses, our SECURE FUTURE® program caps rent increases for four consecutive years. No surprise hefty rate hikes the following year. Just peace of mind and rate protection for the future.
What is and isn't included in the monthly rental fee?
The monthly rental fee typically includes the following:
Your suite and all in-suite utilities such as heat, hydro and basic cable
Most meals: Chef-prepared breakfast buffet, lunch and dinner with table service, afternoon snacks (this can vary depending on the residence you're at).
Weekly in-suite housekeeping
Transportation to appointments, shopping and group outings
Laundry facilities
Access to daily activities such as fitness classes, brain exercises, arts and crafts, events and entertainment, etc.
24-hour reception/concierge and emergency response staff
The items not included in the monthly fee are use of services and amenities such as the onsite hair and nail salon, guest suite, room service, private catering, personal laundry, storage lockers, phone line and underground parking.
What's the food like?
We believe that eating well is part of living well. Many of our Executive Chefs come from high-end hotels and restaurants so you can expect quality food and exceptional hospitality. Our menus are designed around whole grains, fresh produce (some grown onsite in our own gardens), the right amount of protein and plenty of nutrients. Meal portions are senior-friendly, the variety is exceptional and we pride ourselves on consistently providing well-balanced, nutritious meals.
While our culinary program is based on these fundamentals, you won't find the same food served across all our communities. Our talented culinary teams carefully plan and prep the menu choices each week, making sure that they're unique to the preferences at their residence. Residents can also choose PARC SMART options which are meals low in sugar, fats and sodium.
What if I need more support down the road?
There are many options available to you if you experience a short-term illness or require assistance with daily activities such as bathing or medication. Our Wellness Nurse is available to provide you with information and guidance to help you access public health workers or private agencies for care services you require. That means you can remain at the residence and get the assistance you need without having to move and change your life.
How will I spend my time?
You'll spend your time doing whatever interests and fulfills you! All our residences have daily programs that you can join in on. From physical and fitness classes to arts and crafts and cultural outings, many of our residents exclaim that they're never bored! And if you prefer more independent activities, there are plenty of amenity rooms where you can practice an instrument, read a book or watch a documentary. It's really up to you!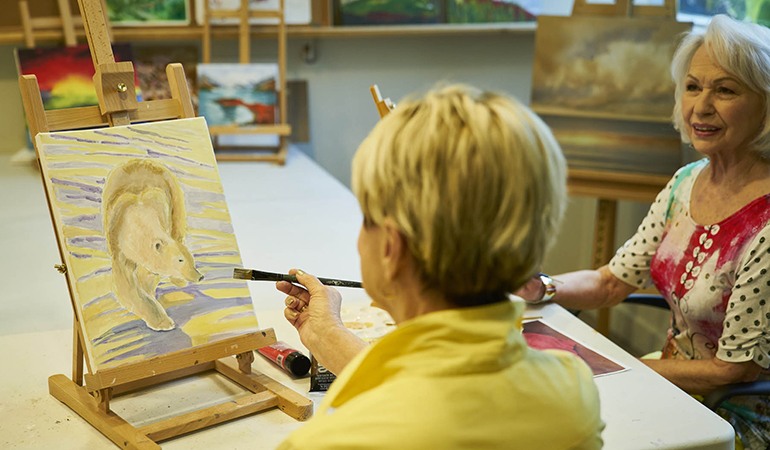 Can I still have house guests or host family gatherings/celebrations?
Of course! A PARC residence is your home and you'd have guests over to your suite just like you would at home. Guests may use one of our guest suites available to families and friends. An additional fee applies but at a considerably lower cost than nearby hotel accommodations.
Our residences have private dining rooms where you can host family gatherings and celebrations. Some of our residences also have family rooms with kitchens where you can cook for big family gatherings, just like you would at home. You're also welcome to have guests over for meals in the dining room.
How are holidays celebrated?
We delight in recognizing various holidays throughout the year and celebrate them with fervour and enthusiasm. For examples, our culinary teams put on a festive and elaborate brunch buffet for Mother's Day and Easter. At Christmas, our residences turn into a festive wonderland of food, music, décor and entertainment for family and friends to gather.
It will be hard to let go of my garden. What's an avid gardener to do?
We recognize that downsizing from a home means that you'll likely leave an expansive yard and garden behind. Rest assured, you won't have to put the gardening gloves and trowel away anytime soon. Many of our residences have green houses and gardens where the resident-organized garden club decides what gets planted and grown, creating a private oasis of colour and tranquility. Designed with seniors in mind, our raised garden beds mean you don't have to bend or crouch down when tending to the garden.
Related: Real Life Stories: Retirement Life Blooms for Virginia and Bob at Mulberry PARC
Keen to learn more about living at a PARC Retirement Living residence? Book a tour to discover retirement living at its finest.