5 Common Questions About Independent Senior Living
in Independent Living

Written by PARC Retirement Living
Finding the right senior living community for yourself or for a family member comes down to the details. From location and suites, to amenities and services, to food and fun, we know there are many items you'll want to check off your list.
It's important to evaluate all your options. And with so many different types of independent living communities available, it's not uncommon to have many questions about what to expect, and what to look for.
Here are answers to five of the most common questions we get about seniors' residences designed for independent living.
Who Is Independent Living Best Suited To?
If you're beginning to research your retirement living options, you've probably already discovered a number of alternatives. The three main types of senior living you'll encounter are:
Independent living
Assisted living
Long-term care or nursing homes
These three types of senior residences are all very different, and the option you choose will depend on your requirements for assistance with daily personal care and medical attention.
Independent living is designed for older adults who are mobile and largely capable of managing their day-to-day lives without much intervention. While independent living offers a wide range of organized and facilitated activities, it also provides older adults with the opportunity to live in a private condo in an accessible and desirable location so that they're able to fully enjoy their community, independently.
The combination of scheduled activities and leisure time, friendly neighbours, personal space, and services and amenities you can pick and choose from makes independent living an ideal lifestyle for those who want to make the most of their golden years. You'll be surrounded by people who are healthy and committed to living well.
While independent living is best suited to seniors who do not require assistance with daily activities, many residences offer some support. At PARC, we have a Wellness Nurse on staff to provide assistance as needed. All new residents moving to a PARC community will have an opportunity to consult with the Wellness Nurse to ensure independent living is right for them, and to offer their support where possible.
What is the Average Cost of Senior Independent Living?
There's a common misconception that retirement residences are costly, and that staying in one's own home as long as possible is a better alternative financially. But a full cost comparison reveals that's generally not the case.
Of course, the cost of an independent living residence depends on numerous factors – in particular, the type and size of the suite selected, as well as available amenities, location and level of care provided.
However, when you add up the total cost of home maintenance, plus utilities, transportation, food and entertainment, recreation and fitness, and other lifestyle expenses, the result is often comparable to that of living in a senior living community.
Keep in mind that rental fees for independent living residences like PARC generally include:
Your suite plus utilities such as heat, hydro and basic cable
Most meals including chef-prepared breakfast, lunch and dinner with table service
Weekly in-suite housekeeping
Transportation to appointments, shopping and group outings
Laundry facilities
Access to daily activities such as fitness classes, arts and cultural programming, events and entertainment
24-hour reception/concierge and emergency response staff
An added bonus? Our SECURE FUTURE® program caps rent increases for four consecutive years, so you're not dealing with unexpected rate hikes.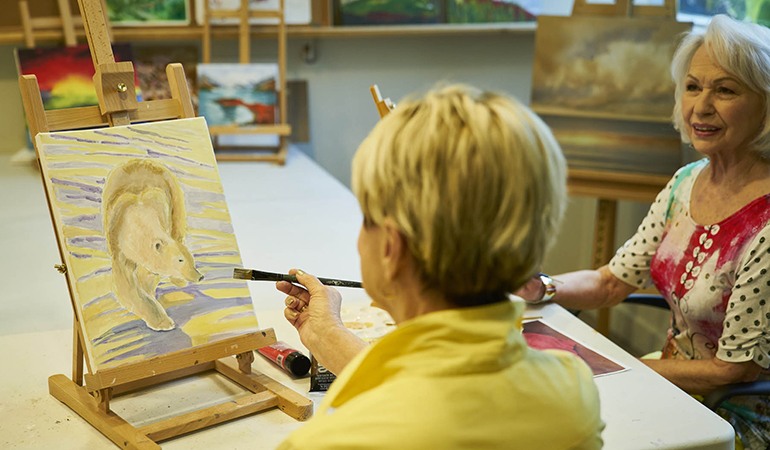 How Will I Occupy My Time?
One of the best aspects of living in a senior living community is that your time is your own to fill how you like – and there's no shortage of engaging activities to try! Think of all the time you would normally spend on chores, home maintenance tasks or grocery shopping that can now be filled with hobbies, socializing, fitness classes or community excursions with friends.
At PARC, you'll spend your time doing exactly what your golden years are for – enjoying life with whatever interests and fulfills you. Our daily programming includes:
Fitness classes – From gentle yoga to strength training, we offer fitness programs for every ability and mobility level.
Gardening – From patio and rooftop gardens to gardening clubs, we offer many opportunities to keep your green thumb happy and active.
Hobbies and Clubs – From arts and crafts to chess club, we've got offerings for every interest. And you'll be sure to meet like-minded residents to join you.
Amenity rooms – Prefer more independent activities? Our amenity spaces are at your disposal for leisure activities – from quiet reading, to music practice, to watching documentaries.
But What About the Food?
A healthy, balanced diet is critical to good health at any age, and it's especially important in our older years. But we recognize that after many years of cooking for yourself and others, it's nice to have the option of letting someone else take this daily task off your plate.
Most independent living residences offer food services, and at PARC we make delicious cuisine a regular part of everyday life. We believe food should be an experience and a daily pleasure. Our chefs not only craft menus tailored to the needs and preferences of older adults, they also prepare every meal with fresh, quality ingredients that not only nourish the body but also make mealtime something to look forward to.
Of course you're also welcome to cook in your suite anytime – for yourself and for guests. And our residences also have private dining rooms where you can host family gatherings and celebrations.
What If I Require Medical Assistance?
Independent living residences are not designed to offer ongoing medical assistance. However, there are many options available in the event of a short-term illness or the need for assistance with a particular activity.
At PARC, our on-site Wellness Nurse is available to provide you with information and guidance to ensure you receive the health and wellness assistance that's right for you.
Interested in learning more about life at PARC? Book a tour and come see for yourself what independent living is all about.