Health and safety are still a priority
We couldn't be more relieved, overjoyed or appreciative to that PARC residents and staff have now been fully vaccinated with two doses of COVID-19 vaccine! What's more, all of the community's hard work has paid off, and COVID-19 numbers are finally dropping across the province. For PARC residents, their families and friends, this means we'll be able to resume life as normal.
We're very proud that throughout the pandemic, PARC remained 100 percent up and running, through following the most stringent quality health and safety practices. Residents have been able to count on continuing access to PARC's extensive roster of activities, programming and dining services, secure in knowledge that PARC staff were taking all steps necessary to protect their health and well-being. This will continue as B.C. rides out the remainder of the COVID-19 wave.
Scroll down to see how PARC is staying safe, or take a deeper dive by reading some of our COVID-19 blog posts.
Looking Forward to Post-Vaccination Life
Getting back to doing the things we love is important! With PARC residents and staff members fully vaccinated, we're bringing back some of our residents' favourite features and activities:
More dining options. In accordance with recent orders from B.C.'s Provincial Health Officer, PARC residents will now be able to host families and friends in indoor dining areas, on dining patios and for meals in their suites.
In-suite visits. Whether it's inside your suite or on your sun-soaked balcony, family and friends are welcome to visit, as long as they too are vaccinated with at least with one dose.
Public tours. We're restarting full tours of our buildings, luxurious suites, well-equipped amenity spaces and lush gardens. Prospective residents can participate as long as they have received at least one dose of vaccine. Masks are appropriate for visitors in all resident amenity spaces. Don't have a vaccination? Prospective residents without vaccinations will also be able to tour our wonderful residences later this summer. Stay tuned for the exact date.
More bus trips to events, activities and attractions. We'll be adding back more outings, and allowing more spots on each tour, so that more residents can participate. See your community's activity calendar for more.
More in-residence events. Over the summer, expect to see an enhanced roster of art and culture programs and events return to PARC communities, put on by fully vaccinated entertainers, speakers and instructors. Class capacity will increase in alignment with B.C. COVID-19 protocols.
Larger PARC Fit classes. Larger numbers of participants will now be allowed in fitness classes, per B.C. COVID protocols, and with physical distance still preferred where possible.
Parc Suite and Amenity Tours Are Back!
PARC Retirement Living residences are now hosting full suite and amenity tours for prospective residents. Tours are by appointment or drop-in. All tour participants must have at least one COVID vaccination and wear a mask throughout the tour.
We follow several other tour protocols to keep participants safe:
Group size limit
Each potential resident (or couple) may be accompanied by maximum of two family members or friends. We encourage other family members to "ride along" using FaceTime or other video-calling apps. Virtual tours and photos are also available.
Declaration form
All members of the touring party are required to sign a declaration form stating they're in good health, or provide their vaccination card or certificate.
Extra sanitization
The show suite and other areas visited will be cleaned before the tour. Hand sanitizer will be available for visitors to use.
Designated elevator
Elevators and high-touch points will be sanitized after each tour.
Risk Mitigation Going Forward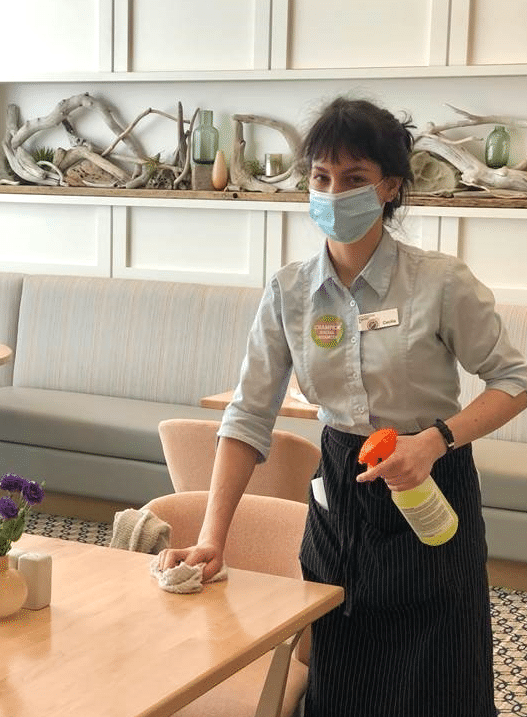 Increased sanitization
We are still following extra sanitizing procedures in all PARC residences, focusing on common areas and high-frequency touch points, such as reception desks and elevators.
Mandatory masks for PARC employees.
PARC continues to have a mandatory mask policy for all staff. For residents, mask-wearing is optional.
Visitor Information and Requirements
Home support services
PARC is an independent living provider; however, some of our residents may require assistance from home support services. These residents can arrange their support services on a private-pay basis with a third-party provider, or through a funded relationship with the local health authority. These home support services are similar to the services seniors might receive if they lived in their own homes. All care providers must follow PARC's COVID protocols when visiting.
Outdoor family dining year-round We currently offer an "al fresco" family dining option that allows residents and their loved ones to enjoy meals together on our intimate dining patios. This dining experience is by reservation only.
Indoor dining with families and friends:
Now that PHO orders allow, PARC families can make reservations for resident and family indoor dining by contacting the front desk. Family members will then receive information on access and protocols within the dining area. Only vaccinated visitors will be allowed in the indoor dining rooms.
In-suite visits:
Visitors with at least one vaccination are welcome to visit residents in their suites. All visitors must check in at the reception area and wear masks while in the building.
Resident Services
Social activities and online connections
As the pandemic wanes, we have been increasing social group programs, events and cultural activities, to keep our residents thriving and enjoying their favorite activities. We continue to offer virtual programming, on topics ranging from mental health and mindfulness to art and culture. We have also added more bus trips so that residents can enjoy scenic drives to exciting new destinations.
PARC's popular Shared iPad Program, which helps residents who do not own a digital device connect with their loved ones, will continue. Each PARC residence has numerous iPads, which can be signed out at reception. The iPads are available in 45-minute blocks, with 15 minutes allocated between bookings to ensure ample time for return and sanitizing. Our Active Living Managers host regular technology lessons to help residents learn how to get connected online and use iPads, laptops and video-conferencing apps.
Health and Wellness Support
Our team is available to assist residents 24-7 and can dispatch an emergency response as needed. Each residence has a dedicated, onsite Wellness Nurse to consult on health and wellness, including COVID testing and vaccination-related issues. If additional personal or health support is required, the Wellness Nurse can provide options and information to help residents and families take a well-informed next step.
COVID-19 Response Content
In response to COVID-19, we have been actively creating content on COVID-related issues to help seniors stay informed and connected. This includes everything from safety tips to recommended indoor exercises, uplifting stories and activities to improve mental, physical and spiritual well-being while in quarantine or self-isolation. Read more on our blog.
Frequently Asked Questions
What happens if a resident at PARC develops COVID-19?
We take a genuine and proactive interest in the health of our residents and would immediately get in touch with the local health authority for next steps. The health authority is ultimately responsible for the medical care of anyone who contracts COVID-19, and all tracing protocols. We would also immediately isolate the resident and anyone else who had been in close contact with that individual. In most cases, the affected resident would ultimately be isolated for 14 days. Any PARC employee who had direct contact with the individual would be sent home to isolate for 14 days under an existing arrangement between PARC Retirement Living and its staff.
How is PARC communicating with residents and their families during COVID-19?
Our goal is to keep residents and their loved ones as informed as possible. We send regular email updates to residents and families. In addition to online communication, our General Managers host weekly resident meetings to communicate changes and answer questions and concerns.
Can family and friends visit their loved ones?
Yes! Visitations are permitted at all PARC Retirement Living residences. We also offer:
Al fresco dining on heated patios
In-suite visits
Dining area visits (coming soon)
Resident visitations to family homes and B.C. vacation destinations
Visiting on PARC residences and grounds
All visitors must have at least one vaccination, and wear masks while in PARC buildings.
What protocols are required for new residents moving in?
Prospective residents who have been vaccinated can move in 14 days post-vaccination. Double-vaccinated residents can move straight in after signing key protocols documents and providing vaccination certificates. A precautionary in-suite isolation of three nights is required for those who have only received their first dose. New residents who do not intend to be vaccinated may move in, but only beginning in late summer, 2021, and these individuals will be required to follow PARC health and safety protocols. All of the above also applies to residents moving in from outside the country, but these individuals must additionally adhere to cross-border COVID regulations, including any mandated hotel quarantines and/or isolation periods.
Let's keep up the good work
Covid-19 Related Blog Posts
Here's what our residents are saying about PARC
Ben
Oceana PARC resident
"Our amazing staff, all wearing face masks, look after us well while we practice social distancing – six feet apart. Daily exercise classes and other activities have been increased so that participating numbers remain within safe boundaries. We are happy and well looked after at the community."
John
Summerhill PARC resident
"PARC clearly understood that its residents are the most vulnerable, and acted quickly with the necessary measures. Sanitisation, social distancing, reduction of programs, lack of visitors, etc. we all fully understood the need for such measures. As each phase of the shutdown was implemented it was done so in such a manner that it had a minimum impact on all residents. Perhaps more importantly was the training and involvement of the staff who have overcome difficult circumstances to look after and care for their residents."
Rose & John
Mulberry PARC residents
"These are indeed challenging times – we feel very lucky to have moved here just before. No worry about meals. The table is always set nicely to enjoy a tasty meal. No cleaning lady to worry about. The housekeeping is done and everything is sanitized."
GET IN TOUCH
Please let us know if you have any specific questions regarding COVID-19 and our residences.
We're here to help!
Call +1.604.408.5811
or email us at [email protected]